Services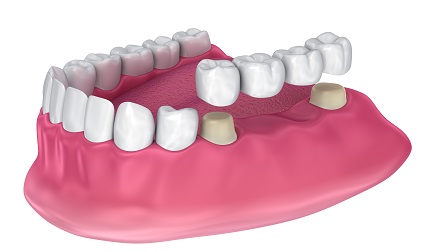 Fixed prosthesis in rosemont
A fixed prosthesis is to be considered in dental implantology when we need to replace one or more teeth, or even all teeth. As its name suggests, the fixed dental prosthesis is not intended to be removed, unlike a removable prosthesis.
Dental prosthesis replacing single teeth
It is possible to replace one or more damaged teeth with a dental crown. When the structure of the tooth can no longer be reinforced by a composite resin or has been devitalized by a root canal treatment, the crown is the solution for the dental prosthesis for your treatment. The dental crown covers the entire tooth and improves the function of the tooth and its appearance.
Dental bridge on implant
The bridge is a dental restoration that replaces one or more missing teeth. In some cases, it is possible to pair teeth with the installation of fewer dental implants to make a fixed dental bridge. It is the creation of an artificial tooth fixed between two crowns, and it cannot be removed.
Dental crown
A crown is an artificial tooth used to cover a damaged tooth and restore the aesthetic of your smile. There are several materials used to design a crown depending on your problem.
Clinique dentaire Balla uses state-of-the-art technologies to design fixed and durable dental prostheses comparable to a natural tooth. Make an appointment today and check with our dentists to learn more about dentures!